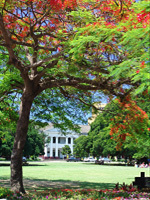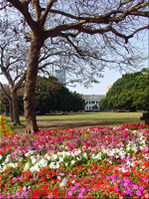 CURRICULUM:
The courses in the undergraduate program include not only the training for integration and application of courses in business knowledge of finance, accounting and strategic thinking, but they also allow students to discover various courses in other fields of study. Combined together with the University's compulsory social science courses, the program is designed to educate them in society value and ethics as well.
The MBA program provides various research method courses, seminars, and advanced courses in professional skills for advancing students' research study. The seminars also aim to promote students' creativity, which prepares them for future career pursuit in public organizations or academic studies.
The Doctoral program provides students opportunities to be exposed to numerous international conferences. The Department also invites today's leading business thinkers from around the world to the University to share their personal philosophies and experiences with students, inspiring students to specialize in creative problem-solving through well-trained researches and studies.
Undergraduate Program
Masters Program
Doctoral Program
DEVELOPMENT
The Department encourages faculty members to do cooperative projects with other departments. Students are encouraged to participate in research projects to develop their research abilities.
The Department provides management services to public and private business organizations to create connections for students' future employment opportunities.
The Department puts great efforts in establishing cooperative partnerships with overseas universities, for academic research projects and mutual communication activities in order to create an international business management viewpoint for students.
Education Approach

The Department encourages the establishment of mutual relationships between the faculty and students. Not only is the training of professional knowledge developed, but the abilities of organizing and presentation are also emphasized.

We recruit new faculty members with diversified expertise to strengthen students' professional knowledge.

The Department usually holds business management application-oriented seminars to examine and strengthen the applicability of theories.

Research
Service
International Partnership