Multi-function Classrooms
Currently there are 5 regular classrooms, 3 terrace classrooms, 1 Audio-Visual Center, 1 case-study lab, and 1 lecture hall in our department. These facilities range from 25-seat small classroom to 200-seat lecture hall and are to be provided base on the demand.
Each classroom has wired and wireless audio equipment, along with projectors and multimedia desks, in order to present teaching and lecture related materials.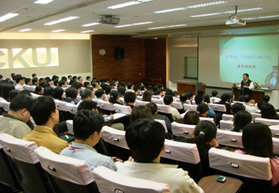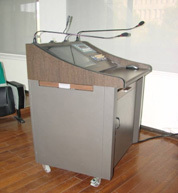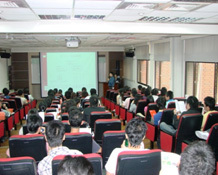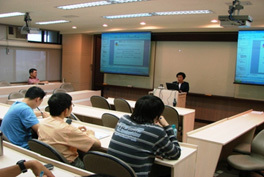 Computer and Internet Facilities
Department Computer Lab has the following equipment:
Computer: server, personal computer, laptop, B/W and color laser printer, and scanner.
Internet: Campus wifi
Research Lab & Student Lounge
In order to provide teachers and students with personal space to do research, the department prepares individual research lab space to all graduate students 24H.
In addition, student lounges are located in each floor for teachers and students to take their break with free coffee and tea. Latest newspaper and magazines are also displayed in the lounge.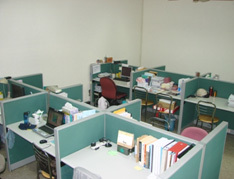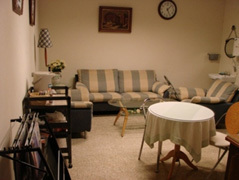 Database & Software
In order to avoid duplication and increase information exchange between each department, all databases are purchased and managed by the school library. Following are the database and software purchased under the authority of our department; other shared resources can be reached at the library website.
Item
Company
Model / Version
XSIGHT
QSR
XSIGHT(VERSION2)
SYNTHESYS LIFE
SYNTHESYS LIFE
STH-LR
SYNTHESYS NON-LIFE
SYNTHESYS NON-LIFE
STH-NLR
LLOYD SYNDICATE
ASSESSMENT
S&P'S
LLOD'S ASSESMENT
Hierarchical Linear Modeling
SSI
HLM 6.0
EVIEWS 6.0
6
Corporate AffiLLIATIONS
Lexis Nexis
1993-2007
AWIN PREMIUM (USA)
The McGraw-Hill C
AWIN
AWIN PREMIUM (USA)
The McGraw-Hill C
AWIN
ATLAS.TI
ATLAS.ti
V:6
Campus Authorized Software
http://www.cc.ncku.edu.tw/download/

Books & Magazines
The department orders thousands of business related books and magazines every year, and those are all free to borrow in the library and to read in the student lounge.